Dropcity, an Architecture and Design Centre has been launched at Milano Centrale Railway Station
01/06/2022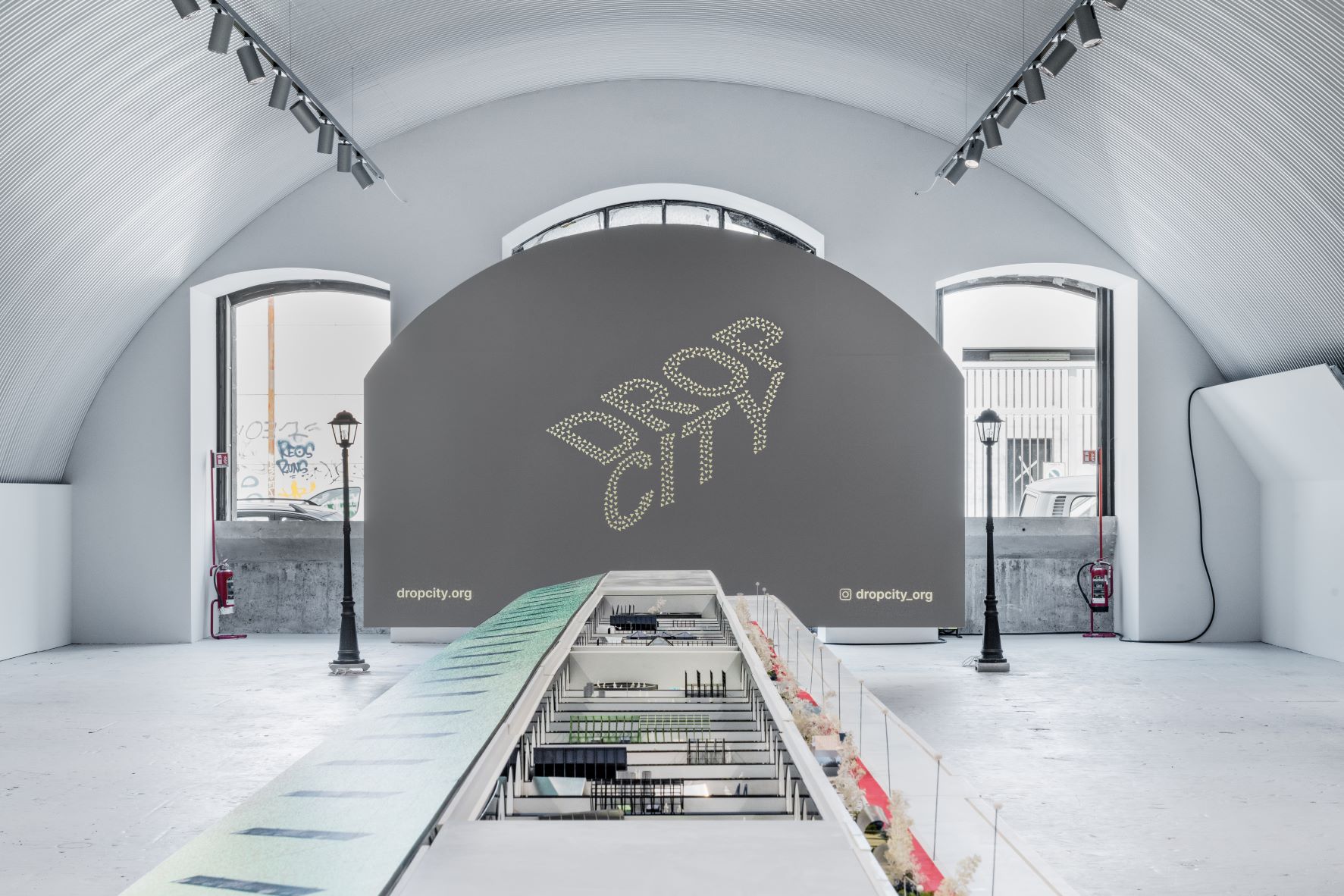 We officially announce today the birth of Dropcity, an Architecture and Design Centre, in the presence of, in particular, Mayor Beppe Sala, GSR and Nhood CEOs Alberto Baldan and Marco Balducci and architect Andrea Caputo.
Dropcity, designed by architect Andrea Caputo, will be created inside the Magazzini Raccordati of Milan's Central Station, thanks to the support and collaboration of Grandi Stazioni Retail and Nhood.
The regeneration of the Magazzini Raccordati forms part of "Cantiere Centrale", a project created and developed in 2017 by Grandi Stazioni Retail with the collaboration of institutions, neighborhood associations and major players.
It consists of more than 40,000 square metres under the Central Station's track bundle for about two kilometres facing Via Sammartini and Via Ferrante Aporti. The Magazzini Raccordati are an important resource for the development and revival of the whole area surrounding the Central Station.
Dropcity, which will be developed in part of the 119 warehouses, is yet another step in this journey and a major regeneration that will open doors to places to be revived and where new opportunities can be developed.
Dropcity, an Architecture and Design Centre, with more than 10,000 square metres, divided into 28 tunnels, will be home to exhibition galleries, production workshops, carpentry, robotics and advanced prototyping workshops. In addition, an area of significant square footage will be dedicated to research, education and office space for sector professionals. Completing the programme is a materials library for sustainable materials and a public library focused on Architecture and Design.
"Bringing the Magazzini Raccordati back to life means being able to rebuild a relationship with an important part of the city, both socially and culturally. It is not only about the "container" of the Central Station coming back to life with its unique features, but also about the possibility and opportunity to consolidate the relationship with Milan and the surrounding community", stresses Alberto Baldan, CEO of Grandi Stazioni Retail – Dropcity fits into this framework and represents another piece of the sustainable, future and concrete vision of our city."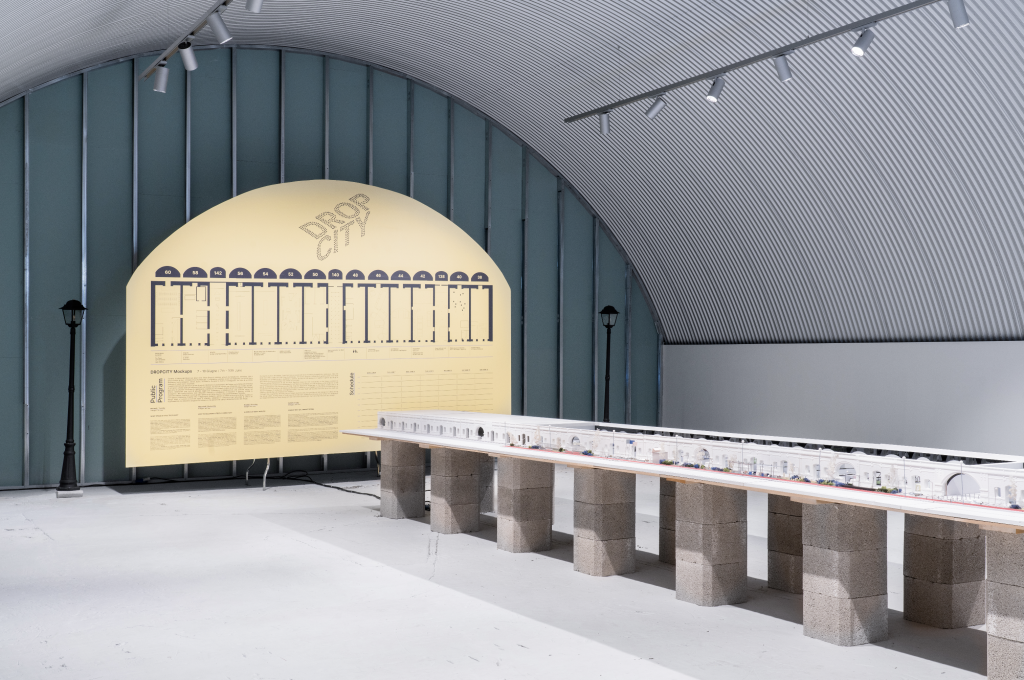 "Milan, with its thousands of architects, is one of the European cities with the highest density of professionals in the field and, at the same time, a leading player in Italian architectural culture. In what is called the Capital of Design, students and recent graduates have difficulty finding suitable spaces for their needs in the face of out-of-market offerings and inaccessible exhibition spaces. These are the reflections that five years ago prompted me to look for a place that could systematise the potential of the Magazzini Raccordati and the need to express new energies. Dropcity is a project born from the bottom up to accommodate the needs of young architects, who need adequate spaces to practice their profession. Places that offer a vertical programme of integrated services for those who belong to the project culture which forms an ideal environment for architectural debate." Declares architect Andrea Caputo, creator and founder of Dropcity.
"Culture is one of the drivers of our economic development and a cultural project like Dropcity perfectly matches our business model: creating or regenerating living places through a virtuous relationship between the public and private sectors. With Dropcity we are breathing new life into an abandoned place to make it a reference hub for architecture and design in the City; an attractor for all young architects and designers who want to invest in themselves; the catalyst for the already important network of cultural and educational institutions that are bringing prestige to Milan, the city where we are also based." Marco Balducci, CEO Nhood Services Italy, explains. "A project like Dropcity represents a huge opportunity for international visibility for the city of Milan, which is now among the most vibrant markets to experiment with innovative and profitable real estate solutions and to activate virtuous public-private partnerships. And where there are opportunities to experiment and bring social and economic value for people and the city Nhood is definitely at the forefront."
Nhood Services Italy is a major player in the real estate sector in Italy specialising in urban redevelopment, as well as an important player in the commercial sector.The company has 1,000 employees spread across 10 countries, a portfolio of 300 assets, 200 of which it owns, 30,000 residences with a global asset value of 8 billion euros and 40 projects under development, including the redevelopment of Piazzale Loreto in Milan and the recent inauguration of La Stazione Vialia Vigo in Spain. The company forms part of AFM (Association Familiale Mulliez), to which some 200 companies in 52 countries belong, including Decathlon, Leroy Merlin, Brico, Norauto, Midas, Kiabi and others. As of 2021, Ceetrus has merged with Nodi, the AFM company specialising in real estate in France, to create Nhood, a new company specialising in real estate consulting and services that develops new neighborhoods and mixed-use living places in areas in need of redevelopment, with a triple positive impact, on people, the planet and prosperity. The company's new business model always starts with a structured activity of listening to the area and is based on four pillars: real estate innovation, proximity, culture and entertainment, commerce and services, espousing the model of the city within 15 minutes and the importance of creating spaces for the physical and spiritual well-being of the individual, on all its projects. The Italian Branch is headquartered in Milan and now manages 50 commercial assets with a total real estate value of 2 billion euros and is engaged on several urban regeneration projects, including the redevelopment of Piazzale Loreto in Milan and the construction of the new Urban Smart Mall Merlata Bloom Milano, in the Arexpo northeast of the city. www.nhood.it
Studio Andrea Caputo was founded by architect Andrea Caputo in 2011. With over 20 projects to its credit, 50 professionals including architects, designers and researchers, divided between the Milan and Shanghai offices, it specialises in planning and consulting in the fields of urban planning, architecture and interiors. For several years it's production was concentrated abroad and then focused on Italy, in particular with the awarding – in 2021 – of the tender for C40 with LOC, Loreto Open Community in Milan. A hallmark of the firm is its continuous investment in research projects that have led to numerous publications and exhibitions including U-JOINTS – A taxonomy of connections.
Grandi Stazioni Retail is the private company that, since 2016, has been managing and enhancing the commercial and communication spaces inside the 14 largest Italian stations, in the heart of the 11 most important cities (Rome, Milan, Naples, Turin, Florence, Venice, Bologna, Verona, Genoa, Bari and Palermo) and that interprets services, retail and communication in a new, modern and functional way. 220,000 square metres of GLA, 1,900 advertising touchpoints, excellent locations, a complete and innovative platform at the service of brands, at the centre of sustainable mobility with a unique connecting force thanks to more than 750 million visitors a year. The shareholders are Antin Infrastructures, Icamap and Borletti Group, international private equity and real estate funds.
Milano Centrale is Italy's second largest station in terms of size and traffic and is a key link for high-speed trains and connections with Europe. Perfectly linked to the heart of the city, it is located in the core of a central, dynamic quarter, a primary business district, a lively shopping area and a residential area with prestigious homes. Called the "most beautiful station in the world", beloved by the Milanese and completely redeveloped, it welcomes over 119 million visitors every year, who come to Milan for business and tourism. With its five levels, Milano Centrale is a prime showcase and stage for brands and retailers and an important commercial and service hub for travellers and citizens alike.
Credits: DSL Studio