Covid-19: rapid testing available in Ceetrus shopping centres thanks to agreement with ParkingGo, Prevention Suite and Meti Group
11/01/2021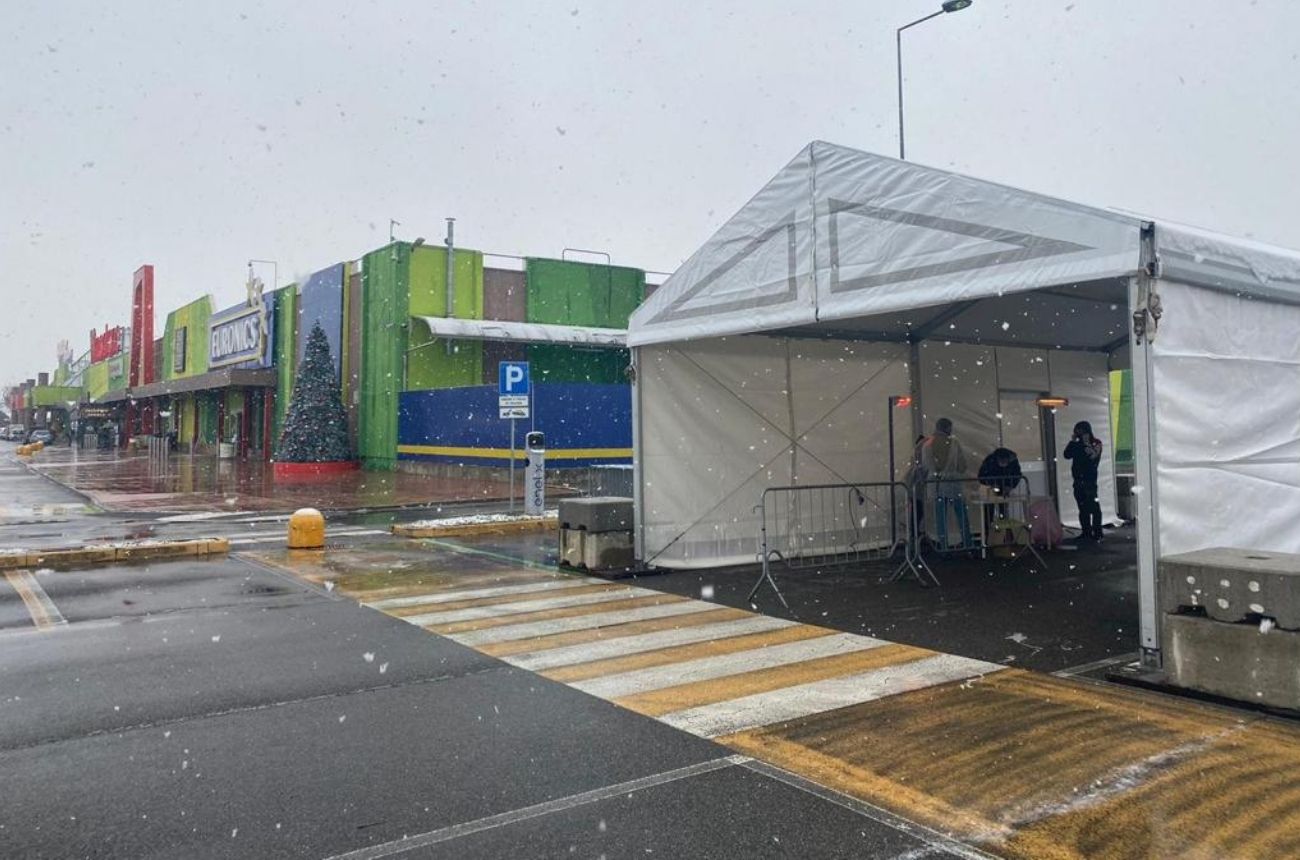 The service will launch in the Mazzano shopping centre (Brescia) in the coming days too. Confcommercio Milano, Lodi, Monza and Brianza is providing its support to efforts to spread the word regarding the testing service in Vimodrone (with particular support from the local Confcommercio Association of Sesto San Giovanni).
Members of the public will now be able to undergo rapid COVID-19 testing in Ceetrus shopping centres. In accordance with its company mission of serving the citizens and local communities around its shopping centres, Ceetrus Italy has launched a new rapid antigen drive-in testing service in the car parks of its shopping centres. The initiative is being run in collaboration with METI Group in Sardinia, while in some Italian regions agreements have been reached with The Prevention Suiteby Medi spa and with ParkinGo.
The move has been made with the backing of local authorities, as part of an open, collaborative dialogue with municipalities, some of which have sponsored the initiative.
The service is already active at the Vimodrone shopping centre in Lombardy. Open seven days a week from 7:00 until 19:00, the service is delivered in a clearly sign posted area of the shopping centre car park, meaning individuals can access the testing centre safely by car. The results of the test will be available within just 15 minutes.
If a test result comes back positive, the individual concerned can then undergo a molecular test at thesame centre.
Tests can be booked online at Payment methods include debitcard, credit card and PayPal. Vimodrone residents will be offered the test at adiscounted price.
The testing service will launch at the Mazzano shopping centre in Brescia in the coming days, using the same system as the Vimodrone centre.
In Milan, the antigen test will be available at the Smart Clinic – San Donato Group – at the Porte di Milano shopping centre (Cesano Boscone). Members of the public can call 0283468966 or visit to book.
In Sardinia, the serviceis active from special stands located in four shopping centres: I Fenicotteri in Cagliari Santa Gilla, Cagliari Marconi, Olbia Mare and Porte di Sassari. Both the standard test and the serological test will be available at these sites.
Booking is open every day from 9:30 to 13:30 at the following numbers: 070.4510496 / 342.0914067.
The service is also set to launch at the Ceetrus shopping centres in Piedmont, Puglia, Campania, Le Marche, Abruzzo and Lazio, as well as the other shopping centres in Lombardy.
The initiative has been met with great interest, with 2,500 tests completed in Sardinia in the space of a month. Over 3,000 tests have been carried out at the Vimodrone site alone in that time.
"Our company slogan – with citizens, for citizens – shows that we've always been committed to providing services for the public," said Ceetrus Italy CEO Marco Balducci. "Against the backdrop of all the problems caused by COVID-19, one of the key ways we can make progress and improve the situation is to increase testing and facilitate access to testing. We wanted to take up an active role and make a tangiblecontribution to responding to the COVID-19 crisis, just as we did with the redevelopment of the intensive care unit at Sacco Hospital in Milan. As such,we decided to give the public the opportunity to access a simple yet completely safe testing service. In the current context, it's vital that we act quickly and work in collaboration with local institutions and authorities, who have given their full backing and in some cases even sponsored the initiative."
The Ceetrus Italy testing service has the support of Confcommercio Milano, Lodi, Monza and Brianza, which –primarily through the local Confcommercio Association of Sesto San Giovanni –is promoting the Vimodrone shopping centre drive-in testing service among local businesses. "Prevention is crucial when it comes to COVID-19," said Sesto San Giovanni Confcommercio Association president Fabrizio Gironi. "We will work hard to raise awareness. The period of great uncertainty that we'recurrently going through – and that we are desperate to overcome – strengthens our sense of responsibility and desire to get involved, despite the problems being endured by many in the service sector."
"We've been able to rise to this new challenge thanks to ParkingGo's expert team, customisable technology and Italy-wide infrastructure," said ParkinGo President and CEO Giuliano Rovelli. "This has been supported by partnerships with The Prevention Suite and with testing labs which are accredited by the regional and national health authorities. This collaborative effort is ensuring the success of the project,as well as providing a public service at a time of health crisis."
"Our prevention activities are continuing across Italy," said The Prevention Suite CEO Andrea Prina."We're proud to be of service to citizens and the community, working with fantastic partners such as Ceetrus and ParkinGo. At The Prevention Suite by Medispa, we're doing everything we can to provide support during the COVID-19 crisis by making a tangible contribution to simplifying the logistics and organisation around testing, in addition to our standard prevention activities."
"The Smart Clinic mission has always been to meet the prevention and care needs of families by providing quality healthcare services that are easily accessible," said Smart Clinic –San Donato Group General Director Roberto Crugnola. "The opportunity for members of the public to undergo a safe, rapid test at our Smart Clinic at the Porte di Milano shopping centre is the latest step in that mission – we want to continue to be an important part of the local community during the pandemic."
Ceetrus Italy S.p.a.
Ceetrus Italy is a major player on the commercial real estate scene in Italy. The Italian branch of the French group Ceetrus currently operates across 51 centres and 5 retail parks, with over 2,300 stores, 600,000 sqm of gross leasable area (GLA) and more than 185 millionvisitors per year. Ceetrus has an extensive experience across a complete rangeof fields on the retail market, for the planning, promotion, commercialisation and management of its own shopping centres and retail parks or on behalf ofthird parties. The company's new positioning embodies its evolution from a commercial real estate firm to an all-round developer of real estate proposals.With 295 shopping centres throughout the world, Ceetrus has now turned tobuilding living spaces which integrate shops, residential units, offices andurban infrastructures, in close collaboration with citizens and the local area.The mission of Ceetrus is to build sustainable, smart and vibrant places, consolidating social ties that will nurture the cities of tomorrow.
In 2019, the group created Ceetrus Management& Development, a real estate consultancy firm that accompanies customers and partners with a complete package of tailored services, guaranteeing impeccably high standards and an innovative approach.
ParkinGOGroup
ParkinGO was launched in 1995 in response to the growing demand for parking near to Milan Malpensa airport and quickly grew into the biggest parking network fortravellers. ParkinGO has seen constant growth over the years, managing car parks at the biggest airports directly and agreeing affiliation and franchising agreements at other sites. The company now has over 90 sites across Europe. ParkinGO is the ultimate transport hub. The network doesn't just feature car parking services – there are also strong links with car rental companies, particularly OK Rent, and with the world of logistics, most notably Amazon.
ThePrevention Suite
The Prevention Suiteby Medispa Srl is a comprehensive web/mobile solution which encompasses Internet of Things (IoT), artificial intelligence (AI), blockchain systems compatibility, remote health consultations (e-Health) and remotemonitoring via wearable devices.
The Suite is currently used by over 1,000 pharmacies in Italy, Spain and Portugal, with an annual flow of over 150,000 check-up tests generating an enormous quantity of data for use in big data analysis and health profiling studies. The Prevention Suite
MetiGroup
METIGROUP is an independent Italian company operating across Europe as a Strategic and Technical Advisory Company. Thanks to the international background of its staff, METIGROUP is able to successfully develop programmes, innovative solutions and projects in a range of contexts, including: integrated health services, environment, energy and resources, innovation and sustainable development. The company is committed to using its cross-discipline skills to address the needs of its clientele, based on a changing market whichis constantly evolving. It offers and adopts sustainable solutions which translate into instruments for competitiveness for local bodies, companies,professionals and citizens.
‍