NHOOD INVESTS IN DROPCITY, AN ARCHITECTURE AND DESIGN CENTRE TO BE BUILT IN THE MAGAZZINI RACCORDATI
01/06/2022
Photo: Giancarlo Tancredi (Assessore alla Rigenerazione Urbana), Alberto Baldan (AD Grandi Stazioni Retail), Beppe Sala (Sindaco di Milano); Andrea Caputo (Architetto, ideatore e co-founder Dropcity), Marco Balducci (CEO Nhood Italy), Alessia Cappello (Assessore allo Sviluppo Economico e Politiche del Lavoro), Pierfrancesco Maran (Assessore alla Casa e Piano Quartieri)
"Dropcity", an Architecture and Design Centre, is an initiative of architect Andrea Caputo developed through Grandi Stazioni Retail with Nhood as investor, developer and co-manager

A unique project in Europe involving the world of architecture and design, the new drivers of the Italian economy, with which Nhood is renewing its positioning among the leading Italian companies in urban regeneration, understood as a combination of public interest and investment sustainability, after winning the LOC-Loreto Open Community project a year ago for the transformation of Piazzale Loreto in Milan.
Milan, 1 June 2022 – Nhood, an international real estate services and consulting firm specialising in urban redevelopment, announces "Dropcity", an Architecture and Design Centre, an initiative of architect Andrea Caputo developed through Grandi Stazioni Retail with Nhood as investor, developer and co-manager of 10,000 square meters spread over 28 tunnels along Via Sammartini that will house exhibition spaces, production workshops, carpentry, robotics and advanced prototyping. A kind of futuristic workplace for all architects and designers in need of spaces suited to their professional needs in Milan's Central Station area, one of the City's most interesting areas in terms of historic background and potential, and whose environmental, social and economic redevelopment has been the subject of much thought in recent years.
By 2024, Dropcity is to provide a large area for research, teaching and exhibition in dedicated spaces with over 400 co-working stations and workshops at rates agreed with the Municipality of Milan and affordable workplaces at below market prices, supplemented by exhibition spaces open to the public and a books and materials library for free consultation, focused on topics related to the world of Architecture and Design.
In this context Nhood is investing 16 million euros to build a unique project in Europe focusing on on a sector – Architecture and Design – now considered one of the main drivers of the Italian economy, and to add a vital new piece of Milanese culture, aiming to attract expertise from Europe and the world and bring to life a cultural district full of innovative services specifically for young architects and designers. All in the setting of the historic Magazzini Raccordati in Milan, an iconic venue that will regain meaning and prestige thanks to this project, which represents the third phase in the major overall design and regeneration of the Central Station area.
Dropcity will be a catalyst space of energies and professionalism with its own social, environmental and economic value and will aspire to strengthen the network of design and architecture excellences already present in the Milan area, further supporting the extended community of designers and architects within the City, with echoes at the international level.
Dropcity involves a system of agreements with the City of Milan creating a complex system of relationships and value unique in the world. For this reason, Nhood is already working to secure membership in the project for academic centres of excellence and major players in architecture worldwide.
For the real estate consulting and service company Nhood urban regeneration is completely in line with a private party's ambition to contribute to the quality of life of citizens and improve the attractiveness of the territory in which it acts by generating a triple positive impact – for People, the Planet and Prosperity – always keeping Culture among the main drivers of sustainability, understood as the identity tool of a community that lives an urban space and generates value from it according to new "mixed", flexible and ever-changing modes of utilisation.
Dropcity consolidates Nhood as one of the leading companies nationwide in urban regeneration, understood as a combination of public interest and investment sustainability.
Dropcity is Nhood's second major step in Milan's urban regeneration after winning a year ago the international C40 Reinventing Cities tender for the transformation of Piazzale Loreto with the "LOC Loreto Open Community" project, in which Nhood acted as investor and head of a team consisting of prestigious companies and professionals. Uniting them, as with all Nhood projects, remains the company's basic approach: the ambition of a private operator to contribute to the quality of life and attractiveness of the area in which it operates.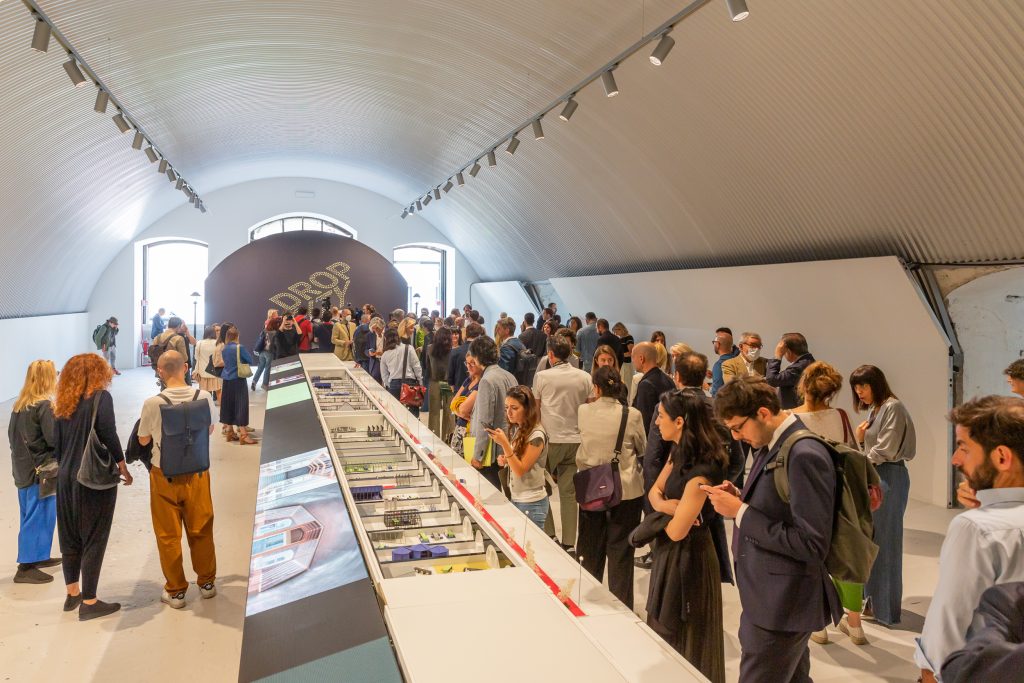 Nhood Services Italy is a major player in the real estate sector in Italy specialising in urban redevelopment, as well as an important player in the commercial sector.The company has 1,000 employees distributed in 10 countries, a portfolio of 300 assets, 200 of which it owns, 30,000 residences with a global asset value of 8 billion euros and 40 projects under development, including the redevelopment of Piazzale Loreto in Milan and the recent inauguration of La Stazione Vialia Vigo in Spain.  The company forms part of AFM (Association Familiale Mulliez), to which some 200 companies in 52 countries belong, including Decathlon, Leroy Merlin, Brico, Norauto, Midas, Kiabi and others. As of 2021, Ceetrus has merged with, the AFM company specialising in real estate in France, to create Nhood, a new company specialising in real estate consulting and services that develops new neighborhoods and mixed-use living places in areas in need of redevelopment, with a triple positive impact, on people, the planet and prosperity. The company's new business model always starts with a structured consultation in the area and is based on four pillars: real estate innovation, proximity, culture and entertainment and commerce and services, espousing the model of the city within 15 minutes and the importance of creating spaces for the physical and spiritual well-being of the individual, on all its projects. The Italian Subsidiary is headquartered in Milan, now manages 50 commercial assets with a total real estate value of 2 billion euros and is engaged on several urban regeneration projects, including the redevelopment of Piazzale Loreto in Milan and the construction of the new Urban Smart Mall Merlata Bloom Milano, in the Arexpo northeast of the city. www.nhood.it
For more information – Media Relations Officer Ceetrus-Nhood
Paola Perfetti pperfetti@nhood.com m. 3496616964